GYİAD Academy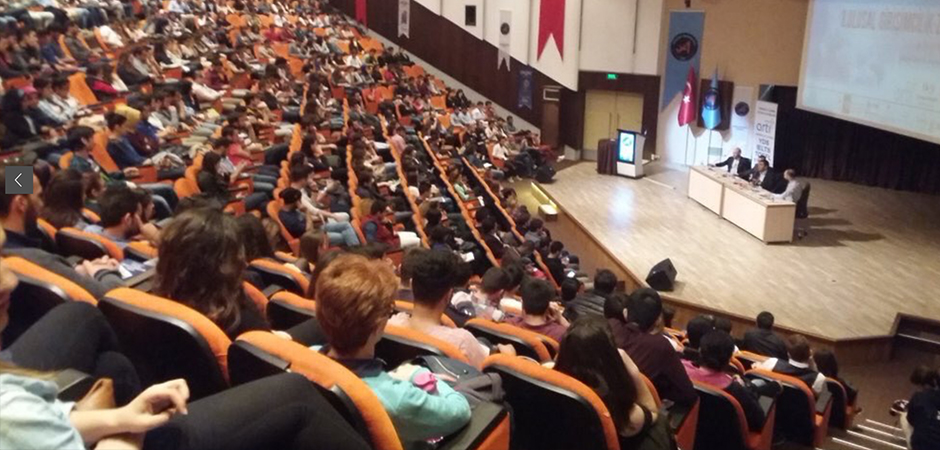 GYİAD Academy is a project serving to development and spreading of the entrepreneurship culture since 2011 with 102 GYİAD Academy Volunteer Lecturers at seven prestigious universities in Turkey.
Thousands of young people graduating from universities in each year face with the problem "What am I going to do now?" and cannot be sufficiently informed and ready for the business life.
As the Young Executives and Business People Association (GYİAD), we made this topic a social responsibility project. We initiated GYİAD Academy "From Theory to Practice in Entrepreneurship Project" in 2011 for the purpose of expanding the interest of youth to entrepreneurship, gathering them together with the leaders of the business world, enabling them to listen to their experiences, inspiring them on Entrepreneurship, and improving their job finding and added value creating skills.
During the course of the project program, which is formed by acting from the idea to support and encourage university students to establish their own companies, different GYİAD Members give lectures at the universities on different subjects and share their knowledge and experiences.
Aiming to promote entrepreneurship in Turkey and to create a working and learning platform increasing the employment, GYİAD Academy gathers the youth together with the Celebrities of Business World.
Through the presentations they make within the frame of a certain program, the GYİAD members voluntarily transfer their experiences in the business world to the students beyond the theory. Blending the theoretical information taken from the university with the experiences of GYİAD members who achieved important successes in their own fields and are the honor of Turkey particularly in terms of new economy, the students start in the business life in a more equipped manner.
The program oriented for students lasts for 10 or 14 weeks and the students get certificate at the end of the program.
Until now, GYİAD Academy held programs in 6 universities in total as Middle East Technical University (ODTÜ), Yeditepe, Koç, Yıldız Technical, Marmara and Galatasaray.
GYİAD Academy trainings made a hit and became the official entrepreneurship training through a protocol concluded between GYİAD - KOSGEB - YÖK - TGBD - TÜRKKONFED under Entrepreneurship Council. So the university lectures applied within the GYİAD Academy program recognized as "Applied Entrepreneurship Training" by KOSGEB and the students successfully completed the program deserve the right to get KOSGEB Entrepreneurship Certificate, and so a donation.
GYİAD Academy started to make a name for itself in the form of daily panels initially on March 4, 2016 at Çanakkale University and then at Antalya Akdeniz University on March 9, 2016.
In addition to these, a pre-study has been started for being mentioned as ISTKA project for state support.
We are aiming to develop and expand our entrepreneurship trainings and to expand GYİAD Academy to Anatolia in addition to the leading universities of Turkey.